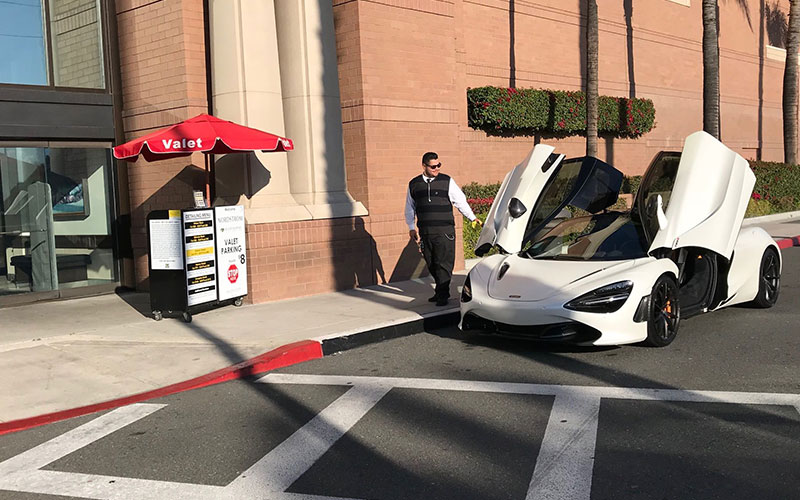 Black Diamond Valet offers valet parking services to commercial businesses that want to provide an extra level of service to their customers, private event valet parking like weddings, corporate functions, fundraisers, and any other parking service needed.
Our team is fully licensed, bonded, and insured and we use the top of the line technology to provide you with the best service and experience.
At Black Diamond Valet, our core values are honesty, integrity, efficiency, and safety while providing great customer service. Black Diamond Valet is involved in many local charities and activities in various communities, such as: St. Jude's, Boys and Girls Club, Let It Be Foundation, and Angel Wings.
"I attended a wedding at the Dana point yatch club.
They had the option to valet!! Which I was glad since I was in heels. It's a nightmare walking in heels.
It made a great first impression on the venue.
They took care of my car. Best of all there was no service fee.
I am getting married soon, we will definitely consider hiring Black Diamond Valet for our guests as they are very kind and professional!"
Nathalie Alcala
"Black Diamond Valet is top tier, they are my go to company for all my companies valet needs. The staff is punctual, friendly and professional. Every event we have I have at least 5+ people mention how attentive and professional their valet attendants are. Anytime I have any valet needs Black Diamond will be my goto. Whether it's limited or tricking parking scenarios their team always finds a way to provide the most premier service. Thank you Black Diamond !"
QDR Enterprises
"I highly recommend black diamond valet. I hired black diamond for a wedding and they were on time, professional, and communicated promptly all throughout the process. The equipment was all in perfect condition and attendants were very respectful and polite. I will hire them again this summer for my parents anniversary party. Thank you again, Black Diamond! 100% recommended."
Will Ellison
"I called Black Diamond Valet the day before a memorial service. They were very responsive and made accommodations to be there the next day. Their attendants were professional and pleasant. Thank you for great service!"
Michelle B
"Always reliable. Great customer service. I recommend Black Diamond Valet to all of my clients for their special events."
- The Task Fairy LLC
Eileen Caulfield
© 2022 Black Diamond. All Rights Reserved.